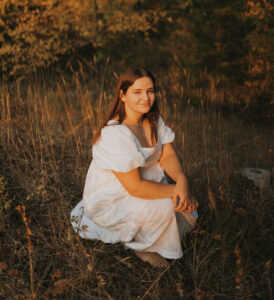 Lauren Haiduc – 2023 Recipient
My name is Lauren Haiduc. I love all kinds of art, but I especially have a passion for theater. It gave me a way to make friends and connections when I first moved to this community 6 years ago. Since then, I have participated in every musical and play I possibly could, playing a range of roles. Aside from theater, my other hobbies include singing, painting and playing with my dogs. In the fall, I'm going to attend Gonzaga University to study business and theater.
I can't even begin to describe how thankful I am for this scholarship! Art has always held a very special place in my life, so I feel incredibly honored to be receiving this support as I continue my education. Thank you, Village Art in the Park!