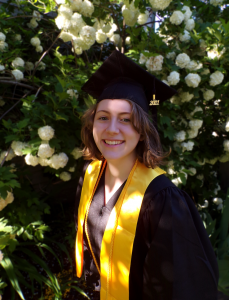 Mia Lopez – 2021 Merit Scholarship Recipient
Ever since I was a little girl, I enjoyed being creative and artistic. I love to draw, paint, perform, and do so many other mediums of art I feel I could not define myself with just a few. After high school I enrolled in the local community college, Wenatchee Valley College, in the Graphic Design Program in 2019. I'm now graduating this June 18th, 2021, with my Technical degree in Graphic Design and an Associates in General Studies, both with honors. I'm now on my way to further pursue art at Central Washington University in the Fall. My plan is to either finish my Bachelors in Art and Design or to enroll in their Graphic Design program.
It's been my lifelong dream to attend university! As a first-generation student, there are so many hurdles to jump and challenges to overcome. Graduating from high school, it was tough to find that I could not afford university. But because of the amazing people at Village Art in the Park, I now can! I will be using the scholarship award to help cover the cost of university. The Village Art in the Park Scholarship is so important to me and my future success at Central Washington University! This scholarship provides an amazing opportunity for me to continue on to higher education. I am so grateful for this, thank you all!