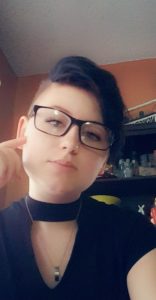 Kendra Emry – 2020 Recipient
I will be starting my sophomore year at DigiPen in the fall of 2021.
With your assistance my freshman year I was able to learn how to use
Gouache, perspective in landscapes, figure drawing, anatomy, animation
and still lifes. My first year at DigiPen I was truly amazed at what I
learned, and I look forward to adding more knowledge of art my 2nd year.
My sophomore year the focus is 3D modeling and the digital side of art.
I am excited to be a part of my first "teams" group, called Spooky Town.
I will be one of the artist that will work with others in creating a
game.
Thanks to Art in the Park for your continued support so I can further explore the world
of art!