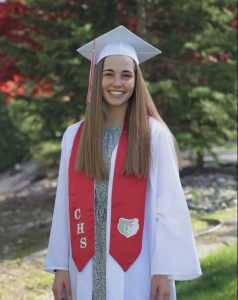 Natalie Craig – 2020 Recipient
I grew up in Leavenworth and spend my free time playing golf, watching Disney movies and baking. My favorite medium is acrylic paint, and I love big projects like painting tables. I will be attending Oregon State University in Corvallis this fall, and will be majoring in Innovation and Design Management, and minoring in Interior design. I am excited be taking classes like Graphic Design, Color Innovation, and Design Management, and will later have the opportunity for an Interior Design internship.
The Village Art in The Park scholarship will give me an amazing opportunity to pursue my passion of art and design. Because I am attending and out-of-state college, one who doesn't offer the Western Undergraduate Exchange Program, this scholarship will provide me with a sense of financial stability that I am so grateful for. I am beyond thankful for Village Art in The Park and to live in such a supportive community.