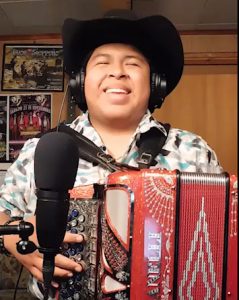 Leonardo Guerrero – 2021 Recipient
I was born in Wenatchee, Wa and have lived in Leavenworth my whole life. I started playing the accordion at age 6, but started playing in a band at 11. Once I was in a band in picked up how to play the bajoquinto, bass guitar, guitar, and drums. I also learned how to play the saxophone at Icicle River Middle School, and stayed in the band program up until graduation from Cascade High School. I have been in 5 bands and have played at Washington, Oregon, Idaho, California, and New York. This 2021 the band I was in and I opened for the #1 most popular Mexican band in Mexico and the US at the Town Toyota Center in Wenatchee in front of a sold out show!
The art in the park scholarship really is a blessing for me because it lets me be the first person in my family to pursue higher education. Not only that but it also will help me pay to get the knowledge for me to live off what I want do the rest of my life which is music. I am really grateful that I was chosen to be the recipient of this scholarship for the year 2021!