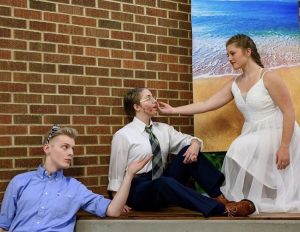 Andrea Sorensen – 2018 Recipient
Andrea is involved in the Whitworth Choir and she held a leadership position this year, being on the logistics and properties team. This consisted of setting and taking down the equipment needed for daily rehearsals. She is also involved in Jubilation Dance Ministries as the Chaplain and Sacred Dance Teacher. Jubilation Dance Ministries is a club on the Whitworth campus that provides free, faith-friendly dance classes of all styles. Andrea also writes a devotion every week that is read out loud at the beginning of class.
Something that makes this scholarship really special and impactful is the fact that it is sent directly to me. Other scholarships, in an effort to avoid students spending it on irresponsible things, send the money to the school. This makes a lot of sense, but it isn't helpful when it comes to buying books, or groceries, or gas. This scholarship has been the one that has given me the opportunity to pay for my books, but also enjoy fun outings like going bowling for a friend's birthday. If it was not for this scholarship I would stress out about buying books a lot more, and not have the freedom to have experiences that are just as important as school. This scholarship is such a blessing to me, the students before me, and the students who receive it after me.