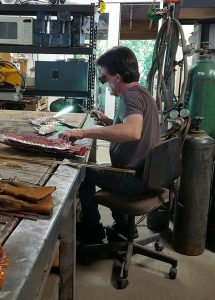 Ron Orcutt
Metal Waterfall Gallery
Ron Orcutt began his career as a metal sculptor in 1970, at the age of twelve. He established his gallery in Leavenworth in 1981.
Today, Ron and his daughter Bonnie completely handcraft every waterfall and sculpture.
They create each piece using an oxygen and acetylene torch, and the finest copper and brass. The finishes on the sculptures are either a clear lacquer to prevent tarnishing, or an oxidized patina finish.
All of their sculptures are suitable for indoor or outdoor use.
Over the years, they have created unique art, wonderful for the home, garden, office and for gift giving. They strive to create unique quality sculptures with affordable prices.