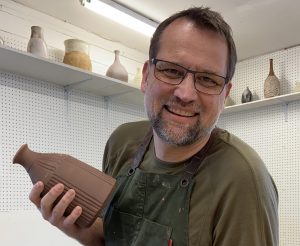 Mike Caemmerer
Tall Tree Ceramics
Tall Tree Ceramics started in 2019 and is the work of artist Mike Caemmerer. It is located in the heart of the Cascade Mountains of North Central Washington and produces small batch, wheel-thrown, artisan ceramics.
Mike grew up with artistic parents, professor/painter dad and weaver mom, always in an environment that allowed dabbling in one art form or another. He first sat at a potter's wheel at the Grunewald Guild pottery in 1988, and has mostly been self-taught ever since with the help of amazing mentors along the way, especially Jim Halvorson of Bloomington Indiana. Fighting with full time jobs, pottery was mostly a hobby until the summer of 2019 when he left his job
and made ceramics part of his daily life.
He loves forms and playing with boundaries. His classic smooth round work has given way lately to more straight line forms inspired originally by the Handi pots of India, where he lived and worked for 15 years. Both styles of work are still evident in his portfolio.
When not in the studio, Mike is also a Theatre artist, writer, director, educator, and oh-so-happily married and father to two accomplished and beautiful young women.