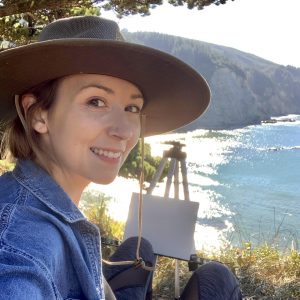 Megan Gray
Megan Gray Art
Megan Gray is a self-taught artist, born and raised on the Southern Oregon Coast. Living in Oregon is an endless source of inspiration. From the sea to mountains and everything in-between—nature is truly at the center of her creative inspiration.
On the brink of sensible and surreal, Megan's drawings often blur the duality between man and nature. Seeking balance and unity in a world of opposition, the integration of portraits and animals calls into question the illusions and boundaries that separate us.
Megan considered herself only a pencil artist until 2018, when she began to experiment with acrylic painting. "I've since vowed to never limit myself to any medium—trying new things is important as an artist. One should never get too comfortable and stunt creative growth." When she paints a PNW scene, her goal is to evoke the feeling of tangibility. "The viewer should feel as though they are standing there or looking out a window."
Megan Gray's Artwork has been displayed in the Coos Art Museum and various local galleries. She takes part in art shows and sells her art online. She also welcomes commissions and has a soft spot for pet portraits and murals.