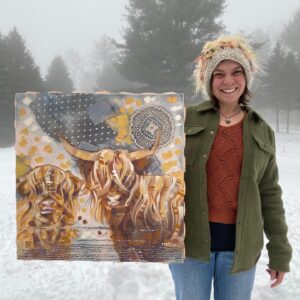 McKenna Kornowski
I am an artist from the midwest sharing time between Wisconsin and Washington State.
Much of my art contains materials such as kimono silk, antique lace, and thrifted clothing. These elements, along with other acrylic mixing mediums, are what give my paintings their unique surface texture.
I showcase and sell my paintings weekly at Village Art in the Park during the summer. My husband and I are both painters who live a mobile lifestyle in the foothills of the Cascade Mountains.
I generate much of my work outside in the studio space that nature provides. It is here where I honor nature's imperfect beauty by drawing inspiration from the great Pacific Northwest.